The Distinctive International Arab Festivals (DIAFA) honored Sajal Aly with an award for her contribution to film and television. It is a truly well-deserved achievement for this talented actress who has been wowing the audience with back to back stellar performances for some years now and has cemented her position as one of the top A-lister actors of the country.
Any actor getting recognition on international platforms is truly a momentous occasion. Previously, DIAFA had honored Mahira Khan with an accolade in 2019. The Superstar actresses had dominated social media on the night when she was awarded. Sajal Aly being the next actress from Pakistan to get the accolade also had social media buzzing in a similar style. However, when the night was over, more than Sajal's achievement it was her sartorial choice that was being discussed by the netizens.
Disappointing Look
Sajal Aly had opted to wear a velvet pantsuit for the night. A wardrobe choice by no means unusual as there have been many celebrities around the world that have made head turns by showing up at events in a finely tailored pantsuit. But the suit that Sajal wore for the night did no favors to the beautiful and petite actress. It was ill-fitted and practically hung on her body because of how oversized it was.
Needless to say, the actress's fans were left disappointed by Sajal's look of the night. Some even demanded that Sajal's stylist be fired for dressing her up so carelessly on such a big night for her career where not only was she awarded for her own achievements but was also representing the country on an international stage. However, it appears that the yet-undisclosed stylist isn't the one to be blamed at all.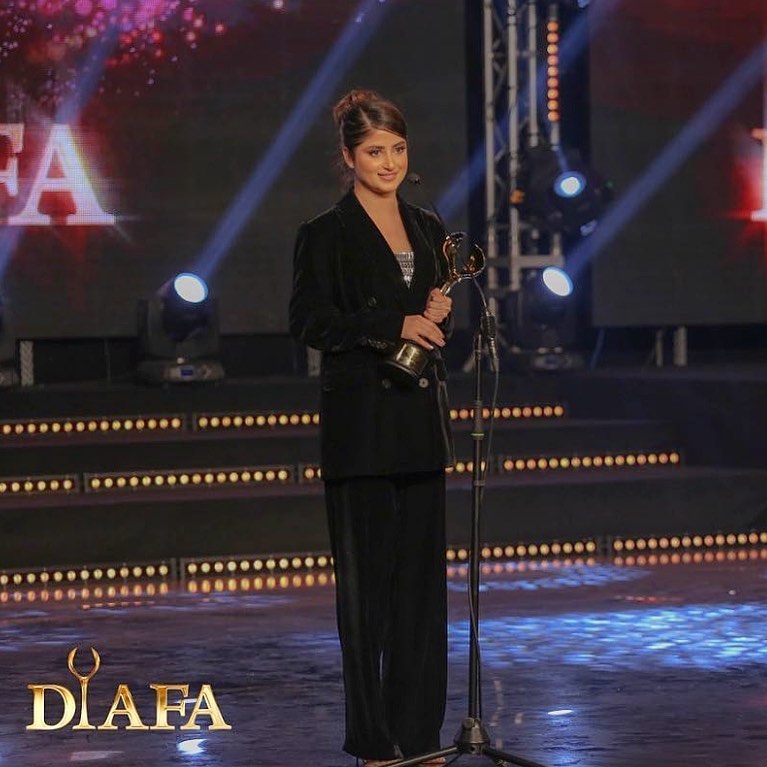 Making A Statement
Speaking to Dawn Images, Sajal had confessed that she had deliberately not opted for any designer wear for the night.
"It was from my own wardrobe and no, it wasn't designer wear," said Sajal. "I decided to wear something simple, something that I could wear again and again. This year has been strange for all of us and I am increasingly beginning to feel that we need to place less focus on material things like clothes. We need to start thinking about sustainability and prioritize what we consider important in our lives."
While Sajal's sentiment makes sense and might appear to be laudable, one cannot refute the reality that it becomes necessary for a celebrity to make an extra effort to look their best on important nights. Award shows where the glitz and glamor of the red carpet are heavily discussed and scrutinized fall under that category. And when the award show is happening on an international level and the celebrity is present there as the representative of their entire country, the responsibility to put their best foot forward multiplies.
Part Of The Job
When Mahira Khan had attended DIAFA last year, her glamorous icy blue Labourjoisie gown was the talk of the town. Naturally, there were some expectations from Sajal Aly, who was practically Mahira Khan's successor this year at DIAFA, to pull off a similar level of red carpet appearance. But her decision to go simple and comfortable did her no favors. What was supposed to be a night where Sajal Aly should've gotten nothing but praise and positive attention from all around, turned into one where the social media discussed her wardrobe more than her achievement.
While an actor can choose not to be necessarily concerned about putting up a glamorous appearance when it does not benefit their craft, a celebrity cannot escape it. It is a part of the job for a celebrity to present their best possible appearance at events where all eyes will be on them. Important statements about sustainability and not being obsessed with material things can be done so without opting for ill-fitted suits. And many celebrities around the world have made such important statements on red carpets while making sure that their sartorial choices are not criticized for being all kinds of wrong.
Looking at Sajal's impeccable craft as an actor, we are sure of the fact that this wouldn't be her last time she'll be awarded such an accolade on an international platform. We can only hope that the next time Sajal will be representing her country on an international stage, she'll put some effort into her styling. Sajal Aly is not just a talented actress she is also a gorgeous woman. She deserves to be seen as such.