Following a few months after its launch across 190+ countries, the Indian digital entertainment platform Zee5 had steadily made its presence known not only on its home ground but also in the SAF region that includes Pakistan. The OTT platform aimed to create and produce content that transcended borders and would appeal to the south Asian diaspora across the globe.
It seems, however, that the network won't be having smooth sails as far as its voyage in the Pakistani market is concerned, despite having commissioned five original Pakistani series to exclusively stream on the platform. Amid the "ban culture" prevalent and followed so dearly in the Indo-Pak region, and cherished by the right-wing populist-nationalist elements on both sides of the borders, there comes a notification from the State Bank of Pakistan that has ordered to block any kind of payment meant to get a subscription to access Zee5 content in Pakistan.
Pakistani content being inaccessible in Pakistan
The notification, addressed to the CEOs/Presidents of banks, EMIs ,PSOs and PSPs working in Pakistan, states that the instruction is being forwarded in the light of decisions made by the Cabinet Division, Government of Pakistan.
The news may come as yet another disappointment for Pakistan based fans of Zee5. The platform had just started zooming in on specific priority markets like Pakistan. Now viewers in Pakistan won't be able to pay to get the subscription needed to watch the content available on the platform, which also includes shows created exclusively for the platform by some notable Pakistani artists and directors.
The network had commissioned five original series from Pakistan, two of which have been released on the platform for streaming – Asim Abbasi's Churails and Mehreen Jabbar directorial Ek Jhoothi Love Story. There are three series that are yet to be released – Dhoop Ki Deewar, Mann Jogi, and Abdullahpur Ka Devdas. This ban brings up the question that whether or not the Pakistani audience will be able to view those series in the country or not.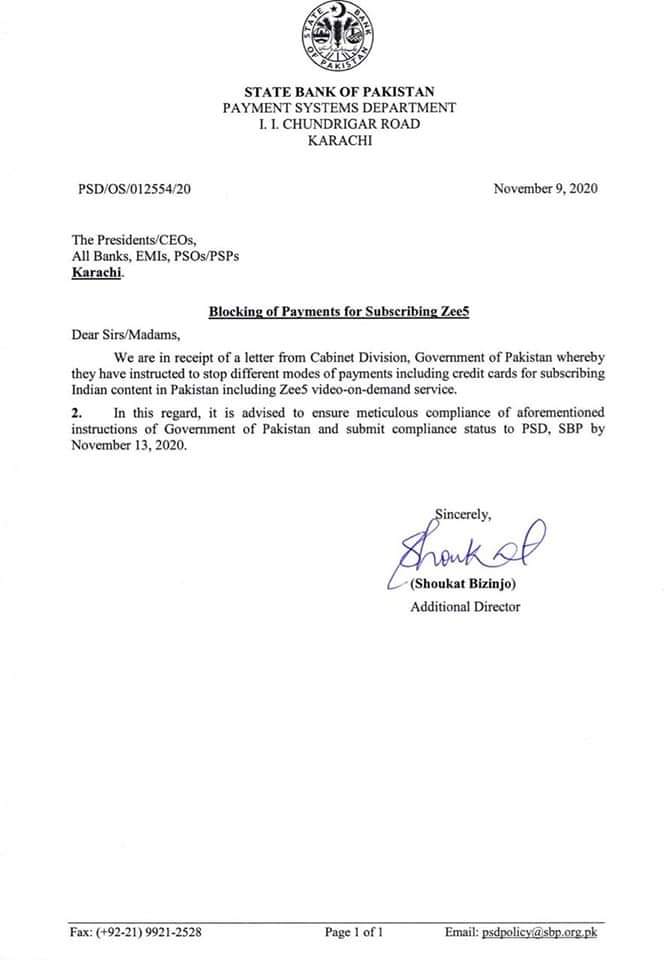 Loss for creators
Apart from a matter of disappointment for the Pakistan based viewers, this move would definitely cause a certain level of irritation at the management levels in Zee5. They had deliberately designed campaigns 'Dil Se Desi' in APAC, MENA, and Africa targeting the Indian, Pakistani, and other South Asian diasporas; as well as customized campaigns, like 'Share the Love' for two important neighboring markets: Pakistan and Bangladesh. Now that viewers from Pakistan won't be able to subscribe, the platform might have to redirect and redesign such strategies.
The biggest loss, however, is incurred upon the already constrained artist community and entertainment industry of Pakistan. which has had limited space to flourish due to a myriad of internal and external, natural, and man-made disasters that include the COVID pandemic and PEMRA's interference. Talking to Galaxy Lollywood, veteran media person and CEO of EPK, Mr. Rashid Khawaja maintained that this decision will ultimately harm the Pakistani talent.
"It's going to be Pakistani artists, directors, and producers who would be at loss at the end of the day," said Mr. Khawaja. "Whoever has made the decision has definitely not consulted any stakeholders in the process. It appears to be a purely bureaucratic decision by the government without taking into consideration the effect it will have on Pakistan's content creators."
He went on to say that Zee5 would be affected to the least possible extent because he doesn't think the revenue they generated from Pakistan is big enough to affect their overall income. He also pointed out how all payments were being made through a Pakistani telecommunication company so it's not like all the money was going outside the country.
In a response to whether he thinks there will be a backlash against this sudden decision, Mr. Rashid Khawaja responded that he personally doesn't think anything major would happen.
"There has never been any action taken against such decisions in the past in Pakistan so the status quo is going to be likely maintained this time too."
Final word
The ban on Zee5 subscriptions from Pakistan is surely going to affect Pakistani content creators in a negative way. It could go on to demoralize a certain section of the artist community, who had found a new platform to showcase their talents, narrate their stories, and generate income, without needing to compromise on their creativity. Zee5 gave Pakistani content a chance to go global on a large scale. It is quite unfortunate that this blockage put by the Pakistani government might be the reason why Pakistani content will have to let go of this one golden opportunity to compete in the global market.