Ah, 2020. What a year it has been. The global pandemic by the name of COVID-19 had the entire world by its clutches. Life as we knew it had to practically be changed overnight as individuals and industries struggled to get used to the "new normal". But life goes on. Our Pakistani entertainment industry and its various celebrities gave us plenty of content to keep us both entertained and frankly baffled all throughout the year.
Here's looking at some of the major WTF and FTW moments of the year in no particular order. So, sit back and read through this breezy recap of the year that was 2020 in the Pakistani Entertainment Industry.
Celebrities Conducting Charities During COVID-19 (FTW)
The world witnessed one of the worst times due to the global pandemic COVID-19. Fortunately, some of our celebrities took it upon themselves to help those in need. Some names that helped people in times of need include Feroze Khan, Ali Zafar, Maya Ali, Hira Mani, Iqrar-ul-Hassan, and Shahid Afridi. All of them were seen handing out ration bags to various underprivileged families.
Celebrities Down With Corona (WTF)
Many Pakistani celebrities, unfortunately, tested positive throughout the year. Mahira Khan, Ameer Gilani, Usman Mukhtar, Saheefa Jabbar, Shahid Afridi, Nida Yasir, Yasir Nawaz, etc are just a few names who had to endure the painful days of isolation and recovery from this virus.
Celebrity Weddings (FTW)
While the whole world hit the pause button in the year 2020, that didn't let some of our celebrities from starting new phases of their lives. Kicking off the celebrity wedding season were Ahad Raza Mir and Sajal Aly, followed by a number of celebrities – including Manzar Sehbai and Samina Ahmed, Aagha Ali and Hina Altaf, Faryal Mehmood and Daniyal Raheal, Sadaf Kanwal and Shahroz Sabzwari, Haroon Rashid and Farwa Hussain, Sarah Khan and Falak Shabbir, Amina Shaikh and Omar Farooqui, Sana Javed and Umair Jaswal – tying the knot.
Celebrity Break Ups (WTF)
From Hania Amir-Asim Azhar breakup turning into a meme, the 'false alarm' nature of the Farhan Saeed-Urwa Hocane separation, and Feroze Khan-Alizey Fatima's rumored divorce, the year saw quite a lot of news about the troubles in some of industry's beloved couples' lives.
Celebrity Children (FTW)
If there was one thing that made the year 2020 a little more bearable, it had to be celebrities posting pictures of their children. From Amal Muneeb's adorable antics to Muhammad Mustafa Abbasi being cute as a button, it was hard to not fall in love with them every time their parents posted a picture of them on their social media accounts.
Nida Yasir's Insensitivity (WTF)
The brutal rape-murder case of a 5-year-old girl Marwah shook the nation. Nida Yasir the host of ARY's long-running morning show Good Morning Pakistan invited the family of Marwah on the show and asked them rather insensitive questions about the whole case. Both Nida and the show got backlash for trying to get ratings through an appalling tragedy that befell a poor family.
Ertugrul Craze In Pakistan (FTW)
Being smitten with international stars isn't new for the Pakistani audience. However, this year, they took things up a notch when they fell in love with the cast of Turkish historical fiction series Dirilis: Ertugul. In fact, they got so obsessed with the main leads Engin Altan Düzyatan and Esra Bilgic that the former ended up visiting Pakistan and the latter became the face of multiple Pakistani franchises including Jazz and Khaadi's.
Yasir Hussain Vs Ertugrul (WTF)
Continuing the legacy for being in controversial news this year, Yasir Hussain seemed to have found a problem with the stars of the Turkish dizi Ertugrul. Although he tried to make a valid point, but his words were very distasteful when he tried to point out that giving work to international stars would leave our own stars out of work. This left the fans of the show fuming and they started trolling him for his ill remarks.
Celebrities Pride Of Performance (FTW)
Many celebrities from the entertainment industry were announced to receive the Pride of Performance, which is one of the highest civilian awards. Some prominent names that made it to the list were Humayun Saeed, Sakina Samo, Resham and Ali Zafar. Bushra Ansari, Talat Mehmood and Sultana Siddiqui were named for Sitara-i- Imtiaz while Abida Parveen was name for Nishan-i-Imtiaz. The ceremony to hand out the awards will take place on 23rd March, 2021.
The Banning And Unbanning Saga (WTF)
Various Pakistani regulatory authorities had found a new hobby this year: banning and then unbanning content. The ban started with Sarmad Khoosat's film Zindagi Tamasha, which was supposed to release earlier this year. Churails on Zee5 was banned and then unbanned within a few days, followed by a ban on buying a Zee5 subscription in Pakistan. Then came the ban on drama serial Jalan, repeated telecasts of dramas Pyar Kay Sadqay and Ishqiya. However, the ban on Jalan was soon lifted. Perhaps the most confusing ban was on Mehwish Hayat's Gala biscuit advertisement for violating 'accepted standards of decency' and 'socio-cultural norms of Pakistan'.
Pakistani Web series On Zee5 (FTW)
The Indian OTT platform Zee5 commissioned five original web series from Pakistan. Two of the five web series Churails and Ek Jhoothi Love Story were released to favorable reviews. It was definitely a great news for Pakistani entertainment industry as these original web-series were made available to stream in more than hundred countries, giving Pakistani content creators the chance to showcase their talent to a global audience.
Feroze Khan 'Quits' The Industry (WTF)
Following in the footsteps of Hamza Ali Abbasi, Feroze Khan announced in March that he would be quitting the industry and he will be only acting to spread the message of Islam. However, not too long after and quite out of nowhere, it was announced that he will be returning to the small screen with Zara Noor Abbas in a telefilm. This left his fans scratching their heads considering his 'leaving the industry' announcement. The telefilm was definitely not a spiritual one which made everyone wonder whether he had really quit the industry. In a recent interview Feroze revealed that his Sheikh advised him not to leave the industry and use his platform and his reach for good.
Sajal Aly Wins At DIAFA (FTW)
Sajal Aly's professional career reached new highs in 2020. Apart from delivering powerful performances in Alif and Yeh Dil Mera, she also went on to earn Distinctive International Arab Festivals Awards (DIAFA) for her contribution to film and television. It was truly a milestone not just for the actress, but Pakistan as well.
Naumaan Ijaz On Infidelity (WTF)
Naumaan Ijaz appeared as a guest on a talk show hosted by Iffat Omar. The veteran actor made some casually distasteful remarks about frequently indulging in infidelity that landed him hot water. For a respected figure of the industry to talk about such things on a public platform, even as a joke, was just not acceptable and the netizens made sure to make their displeasure known.
Celebrities Protesting (FTW)
For some reason, a lot of people think that celebrities shouldn't voice their concern when it comes to societal causes. That, however, didn't stop many of them from coming to streets, protesting against various causes. Some stars that are often seen protesting include Feroze Khan, Sarwat Gilani, Fahad Mirza, Yasir Hussain, Frieha Altaf, Maheen Khan, Sanam Saeed, Mahira Khan, Hina Khwaja Bayat, Faysal Qureshi, Aijaz Aslam, Wajahat Rauf, Adnan Siddiqui, Samina Ahmed, Noman Masood, Shahzad Roy, Shaniera Akram, Ali Rehman, Saboor Aly, Hareem Farooq, Fakhr-e-Alam, Bilal Ashraf, Shahid Afridi, and Ahmed Shahzad.
Celebrities Hijacking Protests (WTF)
Things took a weird turn when a few celebrities-Mahira Khan, Sarwat Gilani, Ayesha Omar, Ali Rehman Khan, Sarah Khan, Aijaz Aslam, Freiha Altaf allegedly hijacked another protest that was being conducted by the transgender community for their safety along with protesting against the horrific Motorway incident. People took to social media to write long posts citing how the celebrities shifted the narrative from the transgenders' protest to their own.
Celebrities Calling Out Colleagues For Endorsing Fairness Creams (FTW)
The Black Lives Matter movement in United States of America had widespread global impact. When the topic of colorism was brought up, our Pakistani celebrities didn't stand back and called out their fellow colleagues for endorsing brands that indirectly support colorism.
Amna Ilyas Vs Ayeza Khan (WTF)
Ayeza Khan and Amna Ilyas got into an ugly social media fight. To make things simple, Amna Ilyas made a video making fun of an ad Ayeza Khan did for a fairness cream. A few days later when an old interview clip of Amna Ilyas went viral where she was body shaming supermodel Amnah Haq. Amna made a clarification video addressing the interview. Ayeza Khan commented on the video and told her to stay away from such mess. This did not sit well with Amna and she sarcastically asked Ayeza why did she unfollow her on social media?
Celebrities Clapping Back At Trolls (FTW)
Social media trolls camping under celebrities social media posts to comment unsavory remarks is not rare by any means. However, many of our celebrities chose not to ignore these trolls and put them in their place by giving them scathing replies.
Humayun Saeed Vs Naumaan Ijaz (WTF)
Humayun Saeed and Naumaan Ijaz made headlines after they two threw jibes at each other. Noman Ijaz said during an Instagram live session with Vasay Chaudhry that Humayun might one day learn to act. Humayun retorted a couple of days later that Noman Ejaz played his father in his first serial and he can play his father again in Humayun's next film.
Zara Sheikh Debut On Television (FTW)
Zara Sheikh ruled the big screen as Lollywood's superstar. When it was announced that the model-turned-actress will be debuting on the small screen, joining none other than Imran Ashraf and Sarah Khan in the drama serial Raqs e Bismil, her fans were over the moon.
Khalil Ur Rahman Qamar's Remarks (WTF)
Khalil ur Rehman Qamar keeps getting embroiled in controversies due to his destructive behavior but apparently, he is still working in the industry. Back in March, the writer appeared on a talk show and got into a spat with a former journalist, Marvi Sirmed. The spat turned for the worse when they started discussing Aurat March. Khalil could not control himself and started using abusive words and profanity for Sirmed. The backlash from the social media and even some prominent personalities of the country was severe towards Khalil ur Rehman Qamar but the man remains unphased and unbothered.
More Fawad Khan Movies (FTW)
Despite being a huge star Fawad Khan's filmography in Pakistan is quite limited. However, it appears that the actor is now working to rectify this as he signed on two new films – Aan and Nelofar. The shooting for Nelofar, which reunites him with his Humsafar and The Legend of Maula Jatt co-star Mahira Khan, has been finished.
Drama Finales In Cinemas (WTF)
Drama serials Mere Paas Tum Ho aired its finale in cinemas across the country and Ehd e Wafa planned to do the same but couldn't due to the countrywide lockdown. The film industry of Pakistan is already having a tough time surviving. Dramas getting the film treatment for nothing else but to make the producers some extra money is just absurd to say the least.
Maya Ali And Sheheryar Munawar Back On Television (FTW)
Both Maya Ali and Sheheryar Munawar have been away from television for quite some time now. The news of the Parey Hut Love co-stars making a joint comeback to television in a drama was a piece of very welcome news for the fans of the actors.
Uzma Khan Vilification (WTF)
Actress Uzma Khan filed an FIR against the daughters of business tycoon Malik Riaz for forcibly entering her house and attacking her. The attack happened because of Uzma Khan's alleged affair with the tycoon's nephew. Social media went wild both in support of and going against Uzma Khan. In the end Uzma Khan ended up taking back all the cases.
Parwaaz Hai Junoon Releases In China (FTW)
The Hamza Ali Abbasi-Ahad Raza Mir-Hania Amir starrer film was announced to be the first film in four decades to get a mainstream theatrical release in China, one of the largest cinema market in the world. It is definitely a moment of pride for the team of the film as it has opened new avenues in the global market for Pakistani movies.
Zindagi Tamasha Release Stopped (WTF)
Zindagi Tamasha, which was supposed to be one of 2020's first theatrical releases, never got to be released thanks to some conservative religious group objecting to the content of the film. Sarmad Khoosat even got death threats for making the film. Needless to say, the country's system failed to protect the freedom of artist once again.
Zindagi Tamasha Official Entry For Oscars (FTW)
Sarmad Khoosat's directorial venture Zindagi Tamasha was selected as Pakistan's official entry for the 93rd Academy Awards in the International Feature Film category. While the film still awaits its release in Pakistan, this feat achieved by the film can be seen as the fraternity standing for the freedom of art and expression in the country.
The 50 Crore Scam (WTF)
It was announced that some prominent names of the industry will be seen together in an upcoming film titled 50 Crore. The announcement left people scratching their heads primarily because of how similar everyone in the first glimpse looked like a blatant rip off of the successful Netflix show Money Heist. Galaxy Lollywood was the one to break the news that it was just an elaborate promotional tactic for an online shopping app's yearly mega sale.
Saba Qamar Directorial Debut (FTW)
Saba Qamar added another feather to her cap when she turned towards direction. Saba not only starred in but also directed the music video for Bilal Saeed's romantic track Qubool. The music video was beautifully shot and it proved once again that Saba is a woman of many talents.
Qubool Controversy (WTF)
A behind-the-scenes short video of Saba Qamar being twirled by Bilal Saeed Lahore's famous Wazir Khan Mosque landed the duo in trouble. As soon as the video hit the internet, both of them were under heat for violating the sanctity of the mosque. Both of them took to social media to address the issue but by then, the damage had been done. They later issued an apology and removed the portion shot at the mosque from the music video.
Sheheryar-Syra Viral Photoshoot (FTW)
Sheheryar Munawar and Syra Yousuf had the entire social media talking about their chemistry after they did a sizzling photoshoot for a magazine. The viral photoshoot that featured these two attractive and officially single stars had the fans start shipping them; such was the power of their chemistry.
PTV's Shameful Actions Towards Veteran Actors (WTF)
Earlier this year, veteran actor Rashid Mehmood lashed out at PTV for giving him remuneration worth PKR 650. He took to social media to question the criteria of PTV based on which they pay their artists. Two months later, Seemi Raheel also posted a picture of a cheque worth PKR 1400 she had received from PTV. She expressed her disappointment over how artists are honored in Pakistan.
Quaid e Azam Zindabad Teaser (FTW)
The first teaser of the Fahad Mustafa-Mahira Khan starrer film Quaid e Azam Zindabad was released. The truly exhilarating teaser got all the fans of Pakistani cinema excited for the film. We hope the situation with the cinemas in the country will soon be favorable enough for the makers of the film to release the film and give the Pakistani audience a truly masala experience fit for the big screens.
Mohabbat Tujhe Alvida Ripoff (WTF)
Audience fans couldn't help but notice the similarities between the Zahid Ahmed-Sonya Hussyn-Mansha Pasha drama Mohabbat Tujhe Alvida and the Bollywood movie Judaai ever since the drama's teasers were released. The rather blatant similarities between the drama and the movie were not hard to miss for anyone. What was staggering was that both Zahid Ahmed and Sonya Hussyn denied knowing that the movie was a copy of the hit Bollywood film. Mansha, on the other hand, tried to defend the show's premise as being not copied from Bollywood but it was a very weak defense.
Asia's 100 Digital Stars (FTW)
Mahira Khan, Atif Aslam, and Minal Khan were included in the list of Forbes' list of Asia's 100 Digital Stars. The three were included in the list among many other prominent personalities across Asia.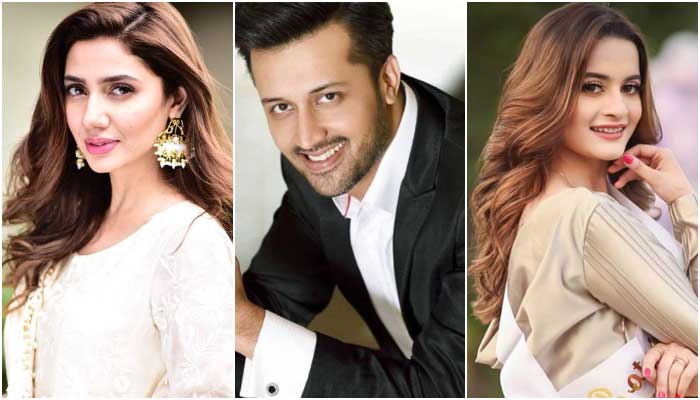 Deepak Parwani's Insensitive Comments (WTF)
Ace designer Deepak Parwani lost control of his emotions during an Instagram live session conducted by designer and host HSY. Deepak Parwani made insulting comments about certain senior fashion journalist and was called out harshly by the social media for his insensitive remarks.
Amma TV Aur Main Wins Hearts (FTW)
Galaxy Lollywood's very own drama review show Amma TV Aur Main got the approval and love of the audience and became the biggest drama review show of the year. Amma's hilarious take on the latest happenings in dramas received widespread acclaim. Even the actors who were part of the shows Amma was reviewing couldn't help themselves but fall in love with Amma and her way of reviewing dramas.
Bushra Ansari Vs Amma (WTF)
Bushra Ansari found herself in hot waters when she lashed out at Lubna Faryad AKA Amma of 'Amma TV Aur Mein' for pointing out the flaws drama Zebaish, written by Bushra Ansari in a now-deleted Facebook post. Bushra Ansari used disrespectful words towards Amma and even wished death upon her. This enraged the fans of Amma TV Aur Mein and #IStandWithAmma started trending on social media as fans demanded an apology from Bushra. Amma, being the graceful woman that she is, replied to Bushra in a respectful manner.
Galaxy Lollywood – Most Popular Social Media Platform (FTW)
Galaxy Lollywood has prided itself for being a portal that provides the most authentic and unbiased news of the world of Pakistani entertainment industry. Thanks to our fans, Galaxy Lollywood won the award for Most Popular Social Media Platform at the first ever Hum Social Media Awards. It was certainly a huge honor for this humble platform and it was all thanks to our fans. We hope to continue bringing you the latest and the most relevant news from Pakistani entertainment industry as well as more entertaining content in 2021 and in many years to come.